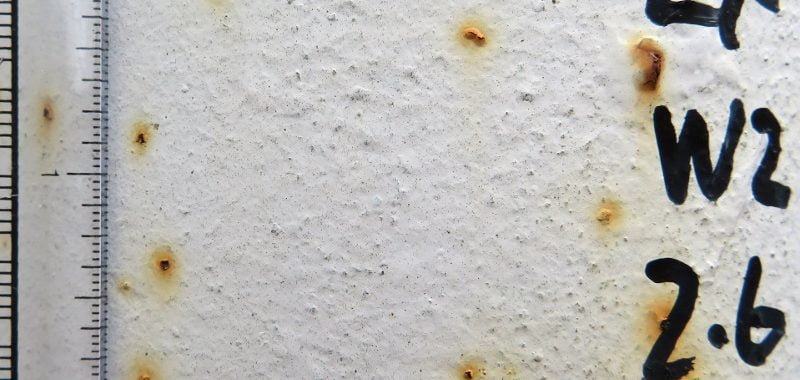 Paint Sampling Techniques
While a variety of paint sampling techniques can be used to determine the cause of coating failure, it's important that samples for laboratory analysis are collected and described properly with a traceable provenance. It's also essential that there is no cross contamination during collection, so disposable gloves should always be worn to minimise any risk.
Supporting photographic evidence should be used to identify sample location alongside before/after sample removal close-ups which feature a rule or other means of indicating scale. After placement in a container (sample bag, glass vial etc), the sample should again be photographed and catalogued with a brief description, sample number, location and date.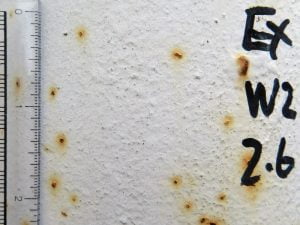 Collecting paint flake samples involves cleaning the affected area with distilled or deionised water and marking to identify the location. It should then be photographed as prescribed above. Although different procedures may be required, generally the larger the sample size collected the better. Samples from other areas not exhibiting failure should be gathered for comparative testing and control.
Coating failures
Where a failure of the coating system from the substrate (detachment) occurs, care should be taken to take samples of paint flakes that are still partially adherent to minimise the risk of contamination. Flakes from adjacent intact sections should also be taken in line with best practice – a sharp knife is suitable where the adhesion is poor, or the coating is relatively soft. Different techniques are required if adhesion is good and the coating hard.
Delamination occurs where there is a loss of adhesion between two coats of paint in a system and the techniques for sampling are the same as detachment. Samples should also be taken of the remaining paint coating from which delamination has occurred.
With blistering, the key to sampling success is to obtain blister caps that are intact to avoid contamination by the surrounding environment. Blisters should be described in relation to size, quantity/frequency, location, height and diameter (ISO 4628-2, ASTM D714) before being photographed. Any liquid contained within the blister can be gathered for sampling and analysis using a hypodermic needle.
Sample containers
The type of containers suitable for collecting samples can include re-sealable food grade plastic bags, glass vials with or without lids sealed with PTFE tape, and glass bottles. Other matters to consider include the safe and secure transportation of the samples to the laboratory, and the recording and inclusion in reports of the use of liquid paint control samples. These are required to ascertain whether the applied coating conforms to the specification and whether it had been mixed correctly.
Samples should always be labelled correctly and a record of the sequence of sample collection, processing, storage, transfer and analysis of the samples (a chain of custody) established.  Full advice about sampling techniques is available in Fitz's Atlas of Coating Surveys at https://fitzsatlas.com/